You've surfed the web hours on end, looking for quality handcrafted wooden furniture. Countless articles and pages from numerous furniture companies across the country use similar terms such as handcrafted furniture, hardwood construction, and custom build. Companies make bold claims that their furniture is the best. But it begs the question. What makes their furniture the best? How does their furniture differ from competitors', or even what makes good furniture? These are excellent questions. There are many aspects portraying the world of furniture that contribute to a piece being truly outstanding. At Georges Furniture, we don't aim to meet the regular standards for constructing furniture. We strive to rise above and beyond in our manufacture of excellence and quality. In the following paragraphs, you will learn about the numerous ways we take our game to the next level.
Dining Table to Fit any number of parties
If you have a large family, you may very well be acquainted with the term, extension table. As the name insinuates, it extends, allowing you to seat more members of the family so everyone can partake in a wonderful meal. Many tables extend to fit two or three leaves, but this limitation leaves much to be desired. That's why we make our tables to extend to fit anywhere from six to sixteen leaves to accommodate even the largest dining rooms.
Where to store all those leaves
Now, it is common knowledge to those who own extensions tables that storage for these wooden table leaves is a necessity. Many resort to slipping them beneath beds or stuffing them into cramped closets, but for solid hardwood leaves, these conditions are not ideal. What is uncommon knowledge is that wooden boards need to breath. Wooden leaves breath to regulate their moisture levels and prevent mold from setting into the grain. As an added layer of protection against excess moisture, we always coat both sides of the leave with a catalyzed conversion varnish. Furthermore, leaves should be stored upright to prevent bowing and warping from gravity's pull.  Read More.
Leaf Storage Solution
In the early stages of extension table development, the issue of leaf storage quickly rose to the forefront of our minds. Some manufacturers even built storage areas within the table itself, but that kind of storage is limited. Instead, we took what we knew about proper leaf care and, after testing different prototypes, landed on a revolutionary piece of furniture so unique that it created a category of its own. The leaf storage. We designed this new piece of furniture to meet every requirement set in front of us.  See the storage options.
No More Water Marks
If you've ever accidently left your glass of water on your coffee table without a coaster, you understand the frustration of lifting the glass and finding a watermark stained on the wooden surface. You promise you won't forget the coaster next time, but what if I told you remembering a coaster wasn't necessary? With our furniture, it isn't. We finish every piece of furniture with a water-resistant catalyzed conversion varnish to protect the grain from the marring effects of watermarks. Inside and out, front and back, even the parts unseen are protected against hard use and floods of water.
100% Solid Hardwood – No waste
Are you tired of searching for quality furniture, only to find most pieces include particle board or plywood in their construction? With our furniture, this is never an issue. We use solid hardwood in every inch of our furniture. Even scraps left over from the furniture making process are chopped up and fed into our furnace to heat our slow, air-drying kiln, enabling us to preserve the richness of our Black Walnut wood. The furnace also heats the woodshop, providing a comfortable atmosphere for our craftsmen.
Moving Chairs
Chairs take the prize for being the most used piece of furniture in your household. Whether you're enjoying a meal around the kitchen table, working on math homework, or reaching for the cookie jar on the top shelf, the first thing you search for to aid your plight is a sturdy chair. No matter what your daily lifestyle looks like, you depend on chairs more than you realize. To ensure our chairs meet expectations, we make our chair rungs with eight sides. The eight-sided rung design is stronger and lasts longer than the more commonly available turned rungs. Each rung is precision sanded and properly sized to fit into a thick seat. So, the next time your guest leans back in their chair, you can enjoy the meal knowing you won't be reaching for the wood glue for unexpected repairs.  We even designed stackable chairs for ease of storage.
Guaranteed Authentic Quality – Signed and Dated
We've talked a lot about quality, but how can we guarantee it? Many companies nowadays make use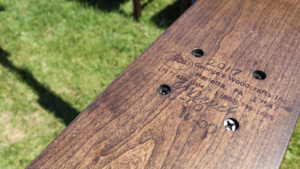 of assembly lines to manufacture their product at the fastest rate possible. While this technique is great for efficiency, it often has its drawbacks. One of which is the downgrade of quality. We don't believe in assembly lines where every person has one job and one job only. Each of our expert craftsman construct a piece from start to finish, paying close attention to every detail. Once finished, they pen their signature and the date of completion on a concealed section of the piece. You can rest assured that the piece you commissioned from us is of the highest quality possible.
Space Saving Solid Hardwood Drawers
Drawers are a necessity included in nearly every piece of furniture, but have you ever pulled the drawer out to find an abundance of space behind it, unused and empty? That space is prime real-estate that you could be using, plus it quickly becomes a black hole, stealing your clothing to be lost for an eternity behind your drawers. At Georges, you'll never have to worry about unused space. Every drawer we make fills the space perfectly, giving you the most storage possible for that extra blanket, another pair of socks, or maybe even that candy you've been hiding from the kids since Easter.  Even the bottoms of the drawers are 100% solid hardwood matching the outside of the cabinet. Whether drawers are in a dresser, nightstand, armoire, hall table, hutch or chest of drawers, the drawers will serve with strong heavy-duty full extension hardware for decades to come.
No Creaky Beds
Looking for a bed that's truly one of a kind? Our custom designed handmade bed rooms are just what you need to take your sleep to the next level! Made from the finest solid hardwood and featuring strong hardware and bed slats, these beds are built to last a lifetime.
Remember those creaky sounds of the bed rails and floor boards as you try to quietly sneak out to the bathroom at midnight.  How about that new king or queen mattress that requires extra support for their warranty to be maintained. Georges uses strong bed rail hardware to secure the side rails into the headboard and footboard.  Two strong metal hooks feed into a metal plate giving the bed rail a secure fit.  Each of the under bed slats are made out of strong oak 1 inch think boards. The king and queen beds slats have a center support leg to hold the weight of a large mattresses. Explore our bedroom gallery.
Functional Cove Crowns
Hutches stand proudly as a signature piece in the dinning room. They often display delicate pieces of fine China or store your fancy plates for special occasions. These mammoths of the furniture community are also known for their noble stature and royal crowns. To most manufacturers, the coved crown, the top rim of the hutch, is simply a novelty. It adds decoration to enhance the furniture's appearance. The crown extends above the top of the hutch, leaving a ton of unused space to collect dust. In contrast, George's crowns are functional.  We never leave valuable space vacant. The roofs of our hutches extend all the way to the top of the crown, giving you more functional storage within the piece to use at your pleasure. Read more.
Custom Design
We take pride in creating unique and beautiful furniture pieces that are tailored to your individual style and needs. Our skilled designers work closely with you to design and craft custom furniture. From rustic to modern styles, we bring your vision to life with exceptional attention to detail and craftsmanship. Our custom handcrafted furniture is not only beautiful but also functional, practical, and long-lasting. Whether you're looking for a statement piece for your living room, entertainment suite or a custom dining table for your home, our team is dedicated to delivering a personalized experience that exceeds your expectations.
Easy Access Side Doors
Another neat aspect, specific to our curio cabinets, is the inclusion of side doors. While other companies build cabinets with only front facing doors, the side doors incorporated into our builds enable a painless installment of the shelves, relieving you of the awkward battle to insert them from the front. The side doors also make it easier to display your large collectibles that never seem to fit through any opening. As an added bonus, our shelves also come with precut plate grooves, perfect for displaying your favorite platters.
Choosing the Right Office Furniture
The shift from going to work and working from home has changed over the years. What are some items to consider when creating a functional space for home office or an executive suite. First measure your space. What size will best fit best with space to move around. Next plan for growth. Will you entertain clients or small meetings? Ergonomics and budget are valuable considerations. Each piece of office furniture is designed to fit the space and style while enduring years of hard use.
How to Clean & Care for Your Solid Wood Furniture
The finish used on all of Georges Furniture is a durable, catalyzed conversion varnish and the best we have found. No need for Coasters and a complete table cloth to cover and protect the table.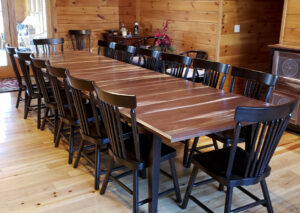 Weekly Care – Use a damp cloth to wipe off the furniture. Use of duster spray is ok: however, avoid sprays that contain wax because they may cause undesirable build-up to form on the finish.
Occasional Special Care – When you polish your furniture, or want to remove fingerprints, use a good grade furniture polish. We use Old English Lemon Oil. Guardsman is also good.
See what things to avoid and what to do for dents and scratches. Here.
Lets Review
Why George's furniture stands out among other furniture. Each craftsman signs and dates your custom made 100% solid hardwood heirloom furniture that is protected with a clear water-resistant conversion varnish. Be mesmerized by the natural grain of the ever growing extension table that is designed to meet your everyday table size, 4-6 people and extends up to 12 feet, even to 21 feet. Store the desired number of table leaves in a leaf storage cabinet for the next dinner party. Lively conversation will continue into the night while sitting on strong comfortable chairs made to withstand even leaning back in the chair.
Georges hutches, dressers and all cabinets contain solid hardwood drawers – even the bottoms – and strong full extension drawer hardware. The cabinet tops extend all the way to the top of the crown and can have easy access sided doors. Strong bed rails prevent squeaky beds and footed slats support the mattress extending its life.
Desks and office suites provide custom designs with long extension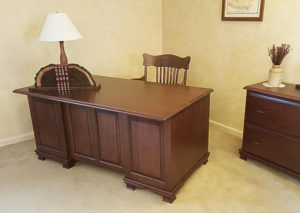 file drawers, adjustable shelves and raised paneled sides. Surround your office with natural wood desks, bookcases, conference tables and filing cabinets.
See for Yourself
Come and explore a wood shop tour where furniture is made the old fashion way by hand, crafted by one craftsman, custom made to your specifications, with 100% solid hard wood. Be amazed by the ability to share your unique ideas with talented designers and see your dreams come true.  Enjoy years of quality as the natural grains of walnut, cherry oak and maple hardwood furniture serve and endure the rigors of home life. Our showrooms and woodworking shop display solid handmade heirlooms for browsing and exploring George's difference in construction and protection of natural hardwood furniture. In the meantime, see for yourself by watching our YouTube channel where we have customer review and an inside look into our woodshop through Facebook lives and PCN videos.