Forever Customers
Once customers find George's furniture, they never want to let us go.  The quality and craftsmanship outshine all other furniture available. Read firsthand as Ches relates his experience and excitement for quality handcrafted furniture.
True Craftsmen
"I have done A LOT of business with George's Woodcrafts in the past, and always used you for any projects that I have. I would match your workmanship 1:1 against anyone.
I truly believe that you are the ELITE
of all wood craftsmen and women in the USA.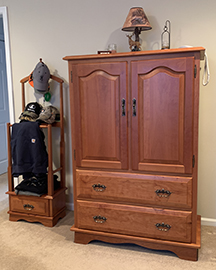 I have always had an eye for detail, as I must in my business and was overwhelmed with beauty when I first saw George's workmanship and perfectionistic approaches to everything.
Your craftsmanship has caught my eye over 20 years ago when placing my 1st order, and still is just as beautiful to me now as it was then. I have had a few custom jobs, along with fully furnishing 2 houses with all your items.
Two Houses full
George delivered a truckload of furniture to me in Media PA himself.  At that time, he said that it was the largest delivery that he has ever made. It was my 1st house in Media, PA (in Broomall township).  I bought EVERYTHING from Georges Woodcrafts.
We took a ride to visit the following weekend after knowing that we would NEVER see anything to match the quality we just saw at George's. We placed orders for EVERY single piece of furniture needed.
If it was made from wood, you guys made it for us.
We have a custom TV stand he built from a picture I found in a magazine.  It's 3 piece unit.  It was EXTREMELY heavy. George and I unloaded EVERYTHING together. I had a few helpers, as some or the pieces were extremely large."
Ches Crognale
Ready to Listen
Whether it is a minor job or filling the house, George's designers and craftsmen are ready to listen and build furniture you will cherish for a lifetime. Visit today in Marietta, PA or explore online at Georgesfurniturepa.com and begin your life living with quality handcrafted furniture, made your way.
How to spot Quality Furniture
Meanwhile, we have created a handy checklist on how to spot high-quality furniture. Download the checklist here so you know what to avoid in your furniture shopping. Then give us a call when you are ready to design your next very own custom, handcrafted piece of solid wood furniture.
Download your Guide to High-Quality Furniture