Quality discovered
The search for furniture is a common need for people all over the America and beyond.  Some are looking for furniture that will only last for several years while others are seeking furniture that will be heirlooms and will shine the quality for years to come. The search for the highest quality, solid, hardwood furniture made in America led Linda and Ed Riffert to Lancaster County, PA. After several years of looking in many furniture stores and experiencing disappointment of the quality, they nearly gave up. Is quality furniture still being made these days?
It's Worth the Wait
During a visit to Kitchen Kettle, Intercourse, PA, they discovered a brochure from George's Furniture.  They followed their GPS clear across Lancaster County, through the cornfields, away from the tourist area and the heavy traffic.  It seemed so far away.  The GPS said they arrived, but where was the showroom.  To Linda's delight, several small signs stating, "George's Furniture." "Straight Ahead".  "It is worth the wait" "Where dreams come true." greeted them as they made their final journey to the wood shop and showrooms.
Quality Furniture discovered
Finally, a place where quality furniture is made and you can even see it being constructed in the wood shop.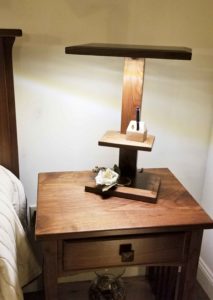 The quality was astounding.  Ed and Linda worked with George and purchased a large oak corner cupboard for their house. A new cascading LED light is now shining the beautiful grain on Ed's desk.
Craft Show findings
The Rifferts love attending craft shows and seeing quality items.  They continue to stop by our stand at the Kutztown Folk Festival, Heart of Lancaster and the numerous Sugarloaf Shows.  They love sharing their experience with George's Furniture to people at the shows.  I enjoy watching their excitement as they share about finding quality furniture.
Sharing with others
Quality is meant to be shared.  Recently the Rifferts brought their daughter and son-in-law into the showroom to assist in their new dining table.  Quality is passing to the next generation.  Come and experience the furniture made by one craftsman while you watch.  Contact us or visit our website for ideas of a new heirloom.