"I love that this table belonged to my grandparents!" Can you believe this solid wood kitchen table was actually created for her grandparents?! Now Karly gets to gather her family around this same table! And it is in amazing condition! 
A Custom Kitchen Table Just for Them
In 1978, Cyrus and Florence Keefer were designing their new house in Middletown, PA. They dreamed of a joyful home making memories with their children. That's when they realized they really wanted a solid wood kitchen table as the centerpiece for family meals, homework, board games & late-night chats. Their next obstacle? Finding a table that could meet their needs. 
As Cyrus & Florence considered their needs, they knew they could not just pick up a kitchen table from a furniture outlet store. They really needed a customized solid wood kitchen table just for them & their family.
Enter George's Furniture, Lancaster, PA. When Cyrus & Florence reached out to George, they knew they definitely wanted a kitchen table made from black walnut wood. Lucky for them, George's Furniture specializes in black walnut wood. When they visited George, they shared their vision for the kitchen & even saw George's woodshop in action. That is when they decided on a trestle table & chairs to fit their eat-in kitchen space. 
1st thing to know about this solid wood kitchen table: It is completely custom designed for Cyrus & Florence's kitchen & made out of beautiful black walnut wood.
Black Walnut Wood: Perfect for this Kitchen Table
Once the gorgeous solid wood kitchen table was installed in their home, it quickly became the gathering point for their family. In fact, Cyrus started a Sunday night tradition of preparing sandwiches, his specialty, for the whole family & any of their guests who visited too. 
Sadly, Cyrus passed in 1980. But in their loss, his family appreciated the memories they had with their father gathered around that beautiful kitchen table. In time, Cyrus's daughter Lori & son-in-law Kurt Siffin inherited the solid wood trestle table & chairs set.

"The table was a sentimental piece of furniture… a pleasant reminder of our father and family home," recalls Lori. "The table has aged well. The memory marks have added character to the table. It is a piece worthy to be passed on." 
In the Siffin home, the kitchen table again brought the family together for meals, games, & memories. Even through several moves, this family heirloom witnessed birthday parties & celebrations, soup nights in the winter, & lunches in the summer. 
When Lori & Kurt Siffin finally downsized to their current home in Long Neck, Delaware, the solid wood trestle table & chairs went into storage, but not for long.
2nd thing to know about this solid wood kitchen table: Using the black walnut wood for this kitchen table meant it kept its beauty & strength through the 2nd generation of the family.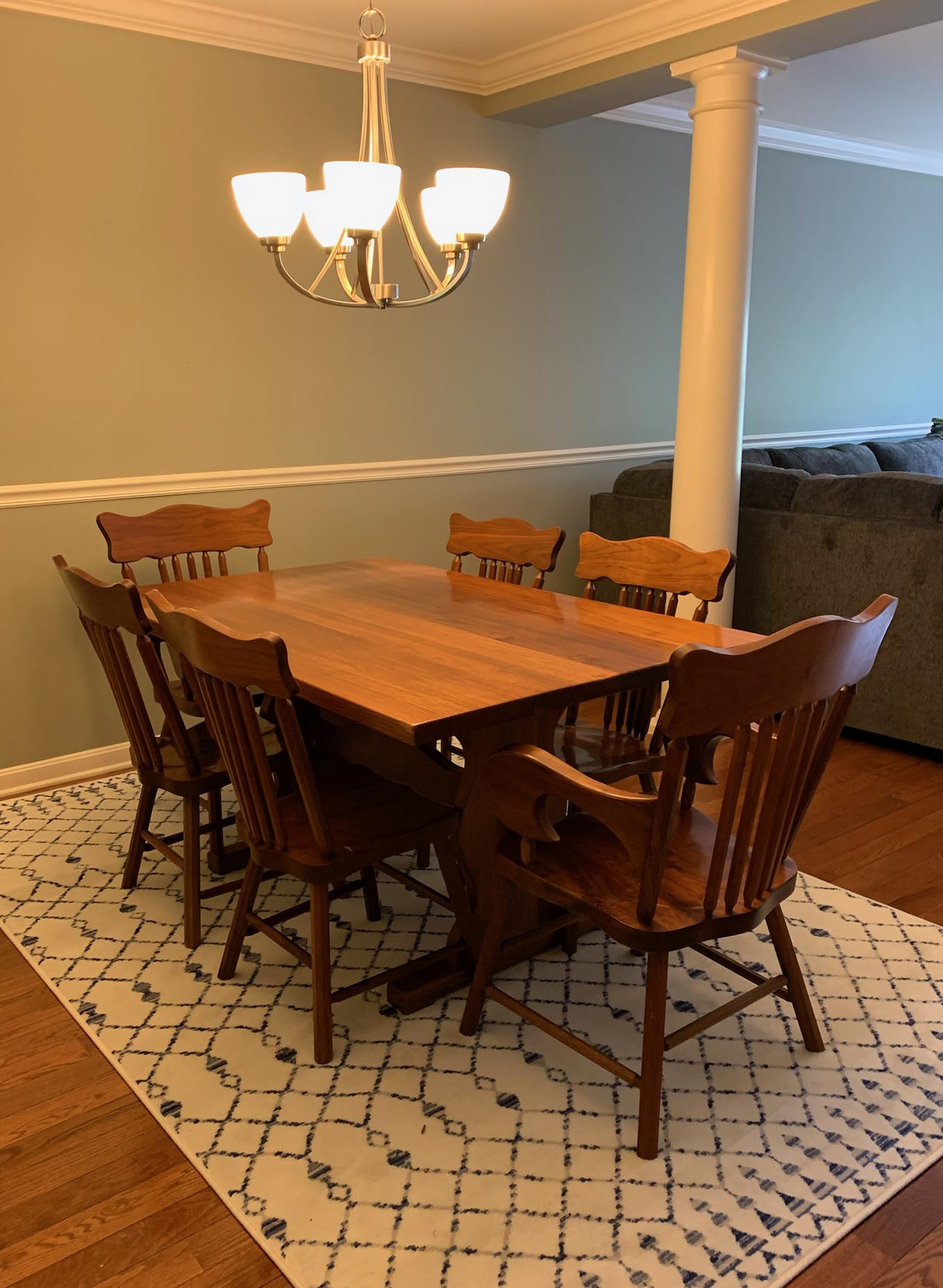 Solid Wood Kitchen Table Lasts Generations
Because of the sentimental value of the table as well as the high quality of the black walnut wood, the Siffins thoughtfully stored the table properly to preserve its quality.
After 2 years in storage, Karly Siffin, granddaughter of Cyrus & daughter of Lori, gave the trestle table new life in her home. From Philadelphia, PA, Karly moved from her small apartment into a townhome in Manayunk, PA. Now this family heirloom can again serve family & friends in Karly's kitchen. "I love that this table belonged to my grandparents. It is very special to me," says Karly.
3rd thing to know about this solid wood kitchen table: When you work with George's Furniture to custom build your dream furniture, you can trust that the quality will truly last your family for generations. It is well worth the investment.
Each customer of George's Furniture enjoys the ability to pass their heirlooms from one generation to another. The exceptional, high-quality construction and strong, protective finishes allow George's furniture to survive decades. Join the many satisfied customers and begin your family traditions of gathering around a table and enjoy the beauty of handcrafted solid wood furniture.