In 1978, while Cyrus and Florence Keefer were designing their new house in Middletown, PA, they remembered a small furniture store in Elizabethtown that built custom furniture. They particularly loved the unique and beautiful graining of black walnut wood. George's Woodcrafts specializes in Black Walnut wood. Cyrus and Florence visited Georges and ordered a trestle table and chairs to fit their eat-in kitchen space.
Family tradition
A family tradition was to gather around the trestle table Sunday nights and Cyrus made sandwiches (his specialty and only time cooking) for all the families that come for the evening. Whey Cyrus passed in 1980 at a young age, the trestle table and chairs set passed on to his daughter and son-in-law, Lorri and Kurt Siffin.
The table was a sentimental piece of furniture. A pleasant reminder of our father and family home, recalls Lorri. The table has aged well. The memory marks have added character to the table.  It is a piece worthy to be passes on.
Second Generation
The table set moved into the Siffin family home and received many years of loving care. It followed the family through several moves, always serving as a gathering place for family meals. When Kurt and Lorri down sized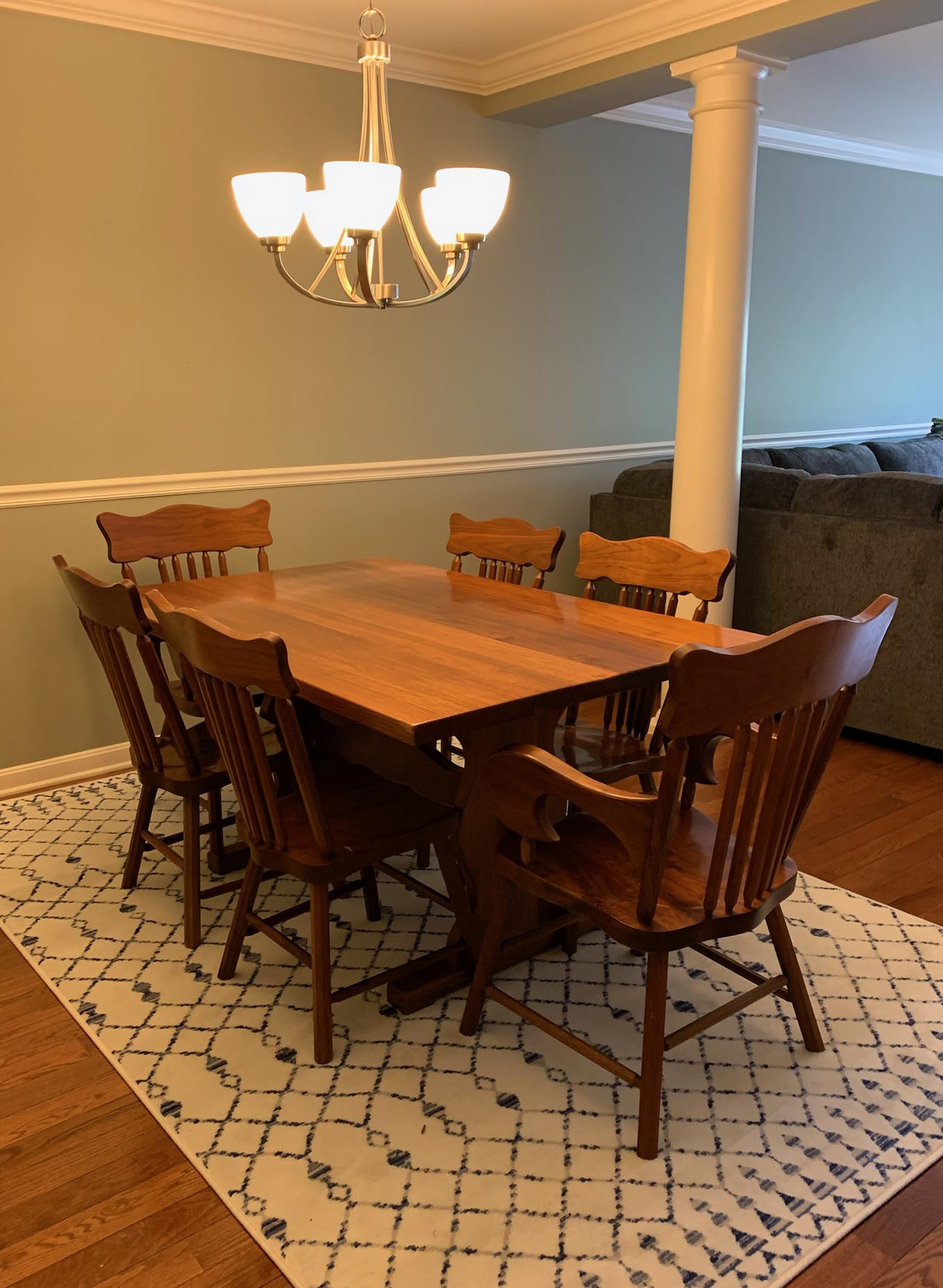 to their current home in Long Neck, Delaware, the table and chairs went into storage.
Third Generation
After having been carefully stored for 2 years, the table set has a new home in Philadelphia, PA. Cyrus's granddaughter, Karly Siffin, recently moved from a small apartment into a town home.  They now had room for the family heirloom. The table fits perfectly in the dining space of Karly's new home in Manayunk, PA.
"I love that this table belonged to my grandparents. It is very special to me." – Karly
Worthy to Pass On
Each customer of George's Furniture enjoys the ability to pass their heirlooms from one generation to another. The exceptionally high-quality construction and strong, protective finishes, allow George's furniture to survive decades. Join the many satisfied customers and begin your family traditions of gathering around a table and enjoying the beauty of handcrafted furniture.