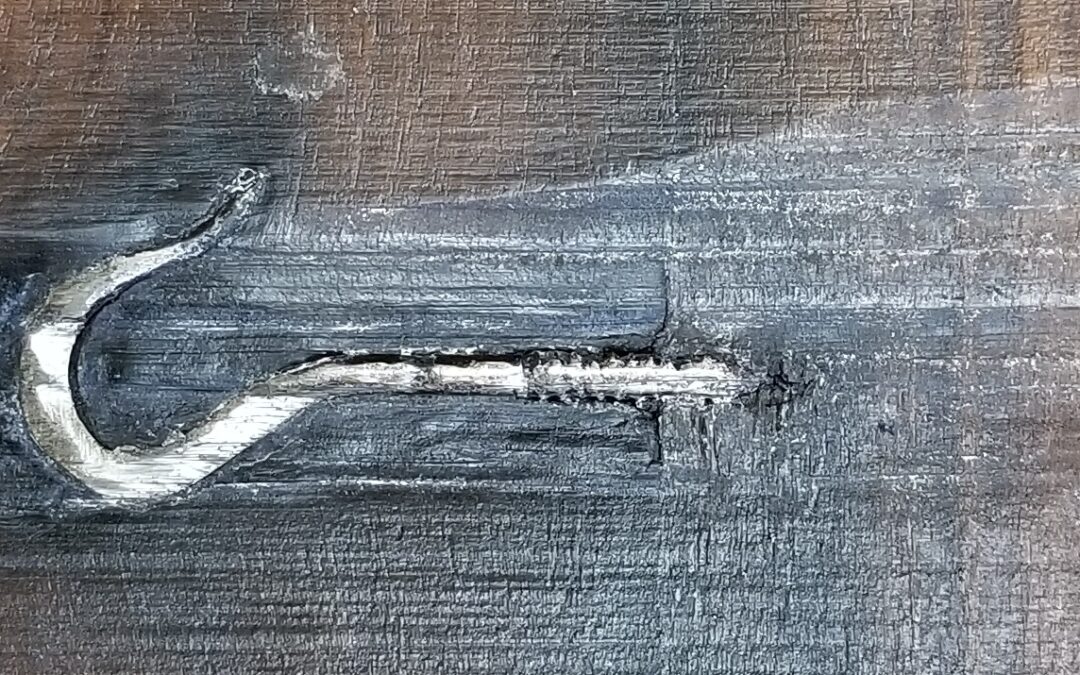 Recently Carl and Chris Geeseman returned to our showroom after three decades of enjoying the furniture built by George. Like so many of our customers, they wanted to share the memories of George.  The memories started back in the 1970's. Carl worked for Highspire lumber yard. Lumber yard typically cut the trees in the forest and transport them to a sawmill. They are looking for straight long trees.  A good veneer log needs to be clear of bark, metal, knots, and blemishes.
Forgotten hammer
Metal is a big concern for logs that come from a residential area where metal hardware, bullets or even a forgotten metal screwdriver, hammer or animal trap discarded in the fork of a tree. Each year the tree grows a metal object will become embedded into the wood and unable to be withdrawn.  The metal object will leave a scar and their minerals will seep into the wood. Not only does metal scar the wood it destroys.
Scars and destroys
Along comes a saw blade, cuts through the metal, or goes around the hook and the expensive blade loses its teeth or even destroyed.  Metal can shut down a sawmill resulting a loss of time and money. Bandsaw blades are 12 feet long and 1 ft wide.  They are razor thin and thousands of dollars. Lumber jacks look at the outside bark for marks or scars that shows healing from metal objects or use metal detectors to find metal. Think twice before hooking a wash line, swing, or sign to a tree.  They are alive and growing.
George's treasure pile
Highspire lumber piled their cut offs like bark, knots, rotten wood etc. aside and sold the straight boards to their customers. George loved to come and rummage through the cut off pile looking for unique knots, grain twists, chain saw wedges, rotten tree butts and odd shaped pieces of wood for his next project.  Walnut and cherry were his favorite. Some cross cuts turned into coffee tables, end tables, Lamp bases, or even crosscut critters (a crosscut with a hole in the middle from where the hollow tree healed itself.)
Filling the House
Carl and Chris Geeseman started their furniture collection in 1980's with a table set, dry sink and hutch. Next a bedroom set. Later as the family grew it was time for the kids' room, a single bed, dresser and child's play table and chairs. Then another bed, chest of drawers and nightstands. Next it was dad's turn with a nice rolltop desk with finished back and swivel desk chair. As the family grew so did the table. Time to order more table leaves.
Resourceful Brothers
During family get togethers Carl and his brother would haul their table leaves to the other's house.  Since both brothers had tables from George's, the table leaves fit together nicely.  A curious situation happened. I discovered a leaf storage box with two different colored table leaves in our shop. The two brothers completed their 8-leaf table set by ordering 4 leaves each.  Now the hassle of loading up the table leaves in the car was no longer needed. All 29 people crowd around the table and enjoy the comfort of family. A fun game the Geeseman children play is lining up the little child's chairs and playing school bus.
Sharing the quality
That is not all the furniture in the Geeseman household. 2 high chairs served the growing family. Chris said that their kids sat in the high chairs so long until they no longer fit in between the arms. Chris stopped using the high chairs when she got tired explaining to the kid's friends why the kids still sat in high chairs.  The high chairs have endured 3 kids, and 5 grandchildren. Other items like rocking chairs (child and adult), quilt rack, cradle, Jewelry box, benches and round end table found their way into the home. There is room for more. Maybe a new bed.
Explore, Watch and Design
Join the Geeseman family and many customers over the 50+ years in their experience with Georges fine craftsmen and quality handcrafted furniture. Everyone worked with our designers to create the perfect piece that meets every need and endures hard use of family and friends.  Begin creating your unique living space, designed, and built right in Lancaster County, PA. Explore ideas on our website, watch the wood shop in action (YouTube) and see what possibilities await discovery.
In the mean time, we have created this handy checklist on how to spot high-quality furniture.  Down the checklist here so you know what to avoid in your furniture shopping.  An informed mind will bring great results.
Download your Guide to High-Quality Furniture