Birth of quality furniture
George first began his business in 1972.  He made furniture in an old dairy barn wood shop and marketed it at a small stand in Lancaster County.  The Gurnsey Barn, was a local venue for country music and local theater nestled along the tourist stretch of Route 30.  It was there that George met many tourists and his customer based expanded throughout the east coast.
Wood Shop Tour began
While the customers loved the quality they also wanted to watch the furniture building process.  So, in the late 1980's, George transformed on old 5 car garage, on the farm, into a showroom.  The wood shop and showroom together invites the public to watch the craftsman building wooden heirlooms.  Tour the wood shop and discover the thought and the skilled design each piece of furniture receives.  The craftsman signs and dates his carefully created heirlooms.
Bus, motorcycle, airplane
Many people visiting Lancaster County enjoy the excursion through the rolling farmland of western Lancaster County.  They tour the wood shop and purchase solid wood furniture created to their specifications.  Although customers often come by car, motorcycle or tour bus, some more adventuresome ones have arrived by bike. They follow the many historical bike routes throughout the county. One couple even landed their small plane at a local airport 5 minutes from George's Furniture to place their order for furniture.
So with access to the internet, Georgesfurniturepa.com contains videos about how our furniture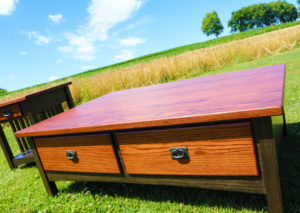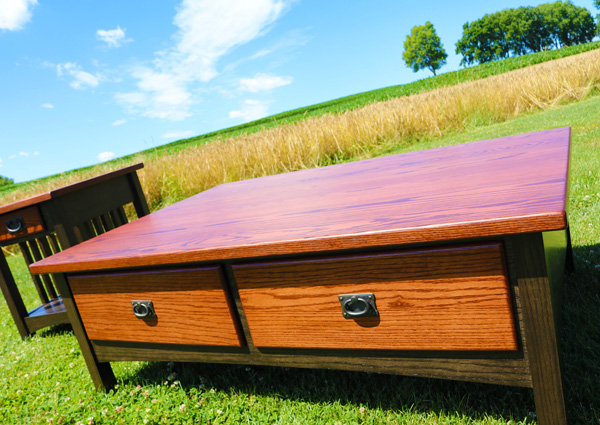 is made. Explore the many samples of quality furniture, to inspire new furniture design. Although the website contains a lot of pictures to view, it is only a small sampling of the furniture we make.  Each piece of furniture is carefully designed, allowing for the natural wood to adjust to moisture changes.  Then it is assigned a skilled craftsman to build.  The final step is the application of the craftsman's signature and dated. Bring in your own ideas and George's craftsmen will bring those dreams to a reality.