George's Difference – Viewing Your Own Handcrafted Furniture
The next time you visit Lancaster, PA we want to give you a tour of our shop where each piece of our solid wood furniture is handcrafted & custom made. Yes, it is true! We love bringing guests on a tour of our wood-working shop. Quite honestly, that is what makes us different from nearly any other furniture shop you can think of. 
Of course, it is not just a tour of some automated wood shop. You see our craftsmen at work, literally drilling, planing, and staining with the tools in their hands to produce your perfect handcrafted solid wood furniture. Actually, we invite not only our guests but any customer with any order in progress to schedule a time to visit & watch their furniture crafted by hand right in front of their very eyes. That was how Tom & Karen found us!
See furniture order handcrafted
"My wife and I had been furniture shopping for over a year and decided it was time to buy.  While my wife was getting ready, I decided to make one last internet search for Lancaster County furniture stores.  I was positive that we had already visited every furniture store so I was not optimistic about finding something new. George's Furniture appeared on a list of stores we had previously visited, some of them multiple times. They were located near Maytown so I clicked on their website." -Tom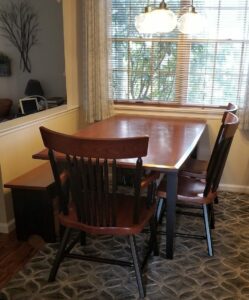 The beauty of creating custom handmade furniture is that we can support your vision in a way that works for you, instead of just selling you assembly line, machine-made furniture. 
Perhaps you need a dining table that is large enough to host all your children & grandchildren for a holiday meal. Maybe you are looking for a bedroom set that can become a family heirloom & add to the beauty of your home. In the professional setting, we even love designing executive desks & conference tables. (Did you know we even designed a conference table for the Pentagon?)
Beginning the handcrafted furniture process
"We were met by Anthony upon our arrival.  After explaining what we were looking for, he expertly guided us through all the options.  When ordering custom made furniture there are lots of decisions to make.  After several hours our order was finalized." -Tom
Tom and Karen worked with our designers to create the perfect dining set to meet their specific needs and interests. They also scheduled an appointment to see their furniture in process.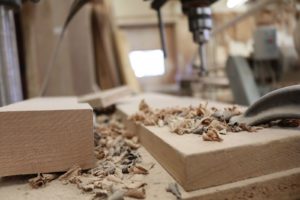 As we walked them through the tour, they saw the chairs ready for assembly. The artisan carefully placed glue into the precisely angled holes drilled into the seat for the chair legs. Tom and Karen observed the chair leveling process to make sure the chair would sit level in their home.
"I didn't realize that so much work goes into making furniture." — Tom
The finished table waited in the completed area. In the wood shop, they could see the other pieces of their set in progress too. A bench sat ready for assembly. The glued together coffee table wood top was ready for its next step of shaping and edge routing. The stained pantry waited for the final clear water-resistant coat of catalyzed conversion varnish.
Assembly lines vs handcrafted
Several minutes into the tour, Tom asked about the difference between George's furniture process and other furniture manufacturing.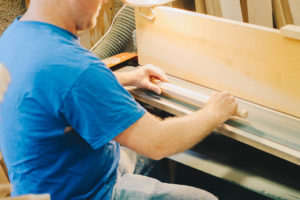 He referred to the cost and time difference of mass production assembly lines. We know many of our customers & guests wonder the same thing.
To be quite honest, mass production uses automated production lines and large sheets of plywood and particleboard in the construction. Since their focus is often on quantity over quality, they spend little time on matching grain or on preparing the wood well for assembly.  We take the extra time of planing, cutting, and gluing the solid wood pieces together. That is what makes our process so different.
The path to quality
Handcrafted custom furniture made at George's shop displays the careful attention to the wood grain, design, durability, and strength of the construction. Can I walk you through our complete process?
Each artisan selects properly dried solid wood boards & cuts them to length. They use a jointer in their preparation process to make the boards flat, square & easy to assemble together (You can find out more about how jointers work

here

.) A thickness planer is also an essential part of this process to prepare the board & ensure that it is the same thickness all the way around the board. (The thickness planer is explained more

here

.)

The furniture is ready for assembly after construction of all the individual parts. All those individual parts often include legs, skirts, tops, sides, solid wood drawers (fronts, sides, bottom), raised panel doors, rungs, seats, chair top, tongue-groove backing, etc.
Next, they stain it and apply a clear coat of finish. The artisan signs and dates their finished piece before an all-over light sanding and final application of water-resistant clear coat of spray-top to bottom, inside and out. We actually asked our previous customers if they can still see the signature on their piece & these are the photos they shared with us.
The final step in assembly is installing the hardware such as knobs & handles on drawers, adding in the table slides (our

extension table

is one of our most popular products actually!), and completing the tongue and groove backing.

Last stop is the storage area where the finished product waits for the completion of the other pieces in the order. For example, maybe you have ordered a full dining table & chairs set like many of our other customers. Maybe you even ordered a bedroom suite of a bed, night stand & chest of drawers. This final waiting area is where we collect all pieces of an order before we deliver the complete set to the customer's house.
Time to enjoy your gorgeous handcrafted furniture
"Our furniture was recently delivered and we are very happy with all the pieces.  They are gorgeous and exactly as we ordered.  The entire process from beginning to end was very pleasant and trouble free. We visited the shop and saw several of our pieces while in production. In closing, my wife and I would like to sincerely thank everyone at George's Furniture." – Tom & Karen
This is what makes us different from any other furniture shop you have visited. You set the vision & we are happy to share our catalog of creations if you need inspiration. Then you can tour our shop to watch our master woodworkers bring your vision to life. Finally you get to enjoy quality, handcrafted furniture that will last your family for decades.
To help you start this process to high quality, handcrafted furniture, we created this handy checklist to spot high-quality furniture. Download the checklist here so you know what to avoid in your furniture shopping. Then call us when you are ready to design your own custom, handcrafted piece.