Amish Communities
Ohio, Pennsylvania, and Indiana are home to the largest Amish Communities in the United States. The Amish lifestyle consists of plain clothes, horse and buggy, no electricity, one-room schoolhouses, and farming. Over the years they developed a reputation for their quality quilts, furniture, baked goods, and produce. In fact, in 2015, about 8.34 million visitors to Lancaster County directly spent $1.97 billion, creating a total tourism impact of $2.64 billion in the county.
Quality Compromised
Over time, marketing replaced craftsmanship. While a few Amish craftsmen are still producing quality furniture, many stores market Amish furniture devoid of the quality buyers expect. As the perception of the quality  Amish furniture increases, the natural result is an increase in demand.  This increase brought new systems and processes which dropped the quality of the product.  They compromised when materials such as cheaper stains, protective coatings, glue, or hardware.  They left the old process of construction behind while newer methods of cheap assembly take over.  These newer methods, which use assembly lines and computerized machines, compromise excellence for the convenience of efficiency.  Consequently, the quality of hardwood furniture is lost along with the buyers ability to customize their product.
Furniture Experts
Furniture experts pinpoint pieces displaying true quality, handmade Amish furniture. The untrained eye, however, sees little or no distinction.  While Amish craftsmen are talented, rarely is the resulting piece considered by furniture experts as constructed by a Master Craftsman. Why does this matter? Furniture crafted by a Master Craftsman ultimately become heirlooms.
Master Craftsmen
Heirlooms are pieces constructed to withstand the test of time and passed down to the next generation.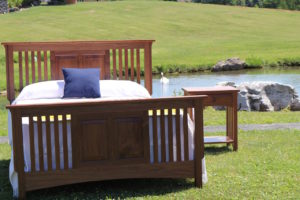 Furniture designed, crafted, and assembled by master craftsmen endure the normal wear and tear of daily life. While George's craftsmen are not Amish furniture makers, we are Master Craftsmen. George's master craftsmen build each piece to suit the needs of the buyer now and in the future.  Forever cherished assets.
George's Difference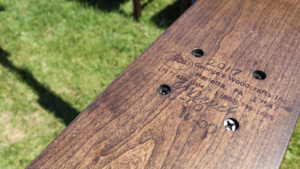 At George's Furniture, one craftsman uniquely crafted each piece – signed and dated.  100% Pennsylvania hardwood construction—no plywood here!  Each item is built-to-order, custom made to your specifications.  Visit our showrooms and see the furniture manufacturing! Time-tested construction for over 50 years…that's the George's difference.