At George's Furniture, each handcrafted, hardwood piece goes on a thorough journey before taking its place in a customer's home. We begin by harvesting native trees and slow-drying the rough sawn lumber in house. Our kiln reduces stress cracks which occur when accelerating the drying process. The slow-drying process also prevents loose joints, splitting, and warping. Our craftsmen are extremely careful in caring for every single piece of furniture produced in our woodshop.
Lovingly Handcrafted, From Start to Finish
Once the wood has been slowly dried, construction takes place. From start to finish, our talented craftsmen take particular care in creating each chair, table, stool, etc. by hand. Our furniture is cut, lathed, and sanded by hand to the exact specifications from our customers.
Before final inspection, your hardwood furniture is assembled and taken to our special staining station.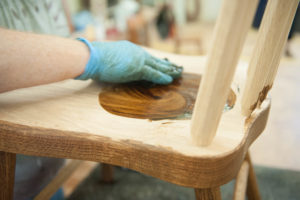 Our craftsman hand rubs your specified color into the wood of your choice. Once the stain has dried thoroughly and completely, the piece is taken into the dust-free spray booth where two coats of premium-quality clear, water-resistant finish are applied to all sides of the piece—including top, bottom, outside, and inside—sealing and protecting this long-lasting piece from moisture and other elements when exposed to natural wear throughout its lifetime.
The first coat of finish is dried and sanded, and the second coat is followed by a close inspection to ensure smoothness and full coverage.
Our Most Popular Finishes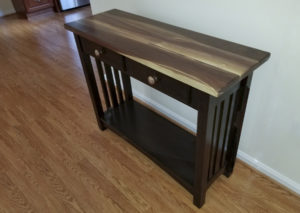 Our most popular stains are the natural black walnut blend, cherry wood with cinnamon stain, and cherry wood with dark mahogany stain.
Each piece at George's Furniture is carefully inspected to make sure it meets our high standards. Call us today to take a tour of our furniture store in Lancaster, PA! Tour our woodshop and showroom so that you can see our furniture making process in real-time—as well as the finished products!