Wedding Registry
Wedding season is almost here! The months of June through September are the peak of this exciting event. You probably received an invitation or two to an upcoming wedding celebration. Tucked neatly inside the invitation, is a meaningful piece of information—the wedding registry.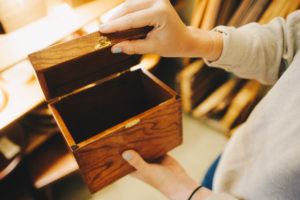 The wedding registry is a very exciting endeavor for the bride and groom alike. However, many couples only think about registering for items they need right now. The truth is, over time, the household needs change and the items on a registry should be just as practical today as they are in the future. Many couples opt to have children, and open their home for the holidays. Perhaps, an aging parent or family member will need to move in.
Ultimately, couples find they entertain more and more in the years to come. So, the items on the wedding registry should recognize the changes life brings and accommodate those changes. Therefore, a balanced wedding registry is crucial. Include plenty of options reflecting a wide-range of prices. A good rule of thumb is to register for more gifts than guests. Guests want to choose the gift they like to give.
Furniture Overlooked
When preparing a wedding registry, you think of things like measuring cups and spoons, flatware, dinnerware, a Kitchen-Aid mixer, laundry baskets, and other necessary household items. Although these items are important and certainly necessary, a crucial, overlooked category on the wedding registry is furniture.
Many couples hesitate to ask for larger-ticket items such as a bed, a desk, bookshelves, sideboard, or a dining room table.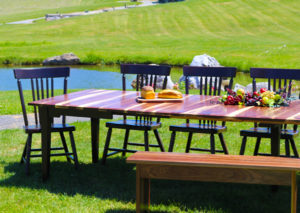 They don't realize that friends and family want to "pool" their funds to provide the newlyweds with a larger, long-lasting and more exciting gift. While bowls break and spoons are lost, furniture typically stays with a couple for many, many years. High quality furniture built right, will become a heirloom!
Register at George's
Did you know that George's Furniture offers wedding registries? Brides and grooms can create their registry together at George's! Couples design their own piece of solid wood furniture while creating their dream living space for their new home! George's offers a variety of pieces and sets in various styles and stain colors.
Imagine a specially-designed piece of furniture!
When you inform the guests of your registry about George's, they can call in or mail their gift and the gifts will be placed on your account. Come and create your own unique piece of furniture made your way!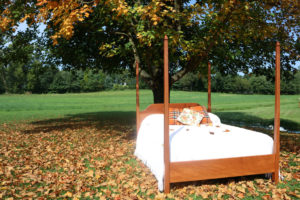 At George's Furniture, we believe in crafting handcrafted solid wood furniture that will stand the test of time. Please contact us to set up your registry.
Also, remember that registries are not to be limited to weddings! A new baby coming or a special anniversary? Contact George's to set up a registry to bless the new arrival (think rocking chairs, dressers, and twin beds) or to celebrate landmark anniversary!