George realized his natural gift and talent for making quality wood products and wanted to spread the word. The challenge with spreading the word about quality of hand-crafted products is finding customers who appreciate handcrafted items.
Craft shows
George first displayed his wood items at Springs Festival, Springs, PA. He skillfully created live edge furniture such as stools, benches, tables, and bookends. Thin, woven wood-strip baskets and lamp shades characterized his unique, woodworking styles. Throughout the show day,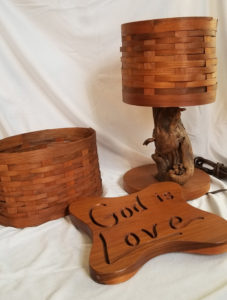 George engraved custom plaques ready in one hour. Other larger wood items like rockers, dry sinks, trestle table and benches were available for purchase. Customers also used the furniture to explore the different furniture style options for placing custom orders. For many years, the order placed at the craft show supplied work for the next 12 months. George not only went to Springs festival but also displayed his crafts at the Dutch Family Festival in Lancaster, PA during the summer tourist season.
First Showroom
In 1973, he rented a small showroom at 4 Center Square, Elizabethtown, PA. Later that winter he moved his furniture store to 20 S. Market Street, Elizabethtown, where he sold furniture for thirteen years. This furniture store was quite small but allowed customers to see the quality of craftsmanship made by George and his craftsmen. On Friday and Saturdays, he also had a stand at Meadowbrook Farmer's Market, Leola, PA. George purchased a 12-acre farm where he moved his wood working shop into the dairy barn.
Showroom and wood shop tours
One added benefit our customers enjoy is touring the wood shop. George moved the showroom to the same location as the wood shop.  Allowing customer to view the furniture manufacturing shows everyone the time and attention to detail given to each piece of furniture. The larger showrooms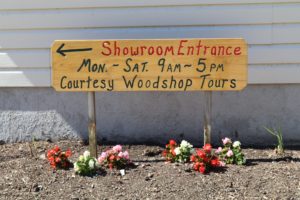 present a visual display of completed furniture. Larger furniture-dining room sets, bedroom suites, living room tables, entertainment centers are displayed.
Visit Today
Our two large showrooms are located 9 Reichs Church Road, Marietta, PA, Monday through Saturday. The wood-shop tour exhibits the manufacturing process from raw lumber to finished furniture. Take a trip to our location and enjoy the quality furniture and talk to our design team about a new piece of custom-made furniture. We also display our furniture at craftshows in the Eastern United States. Check our website for updated schedule.