Stephen and Dora started their adventure looking for quality custom design furniture for their new office space. They searched various furniture stores and websites for a long time. One website that caught their attention directed them to a small wood shop in Marietta, PA that made custom design office furniture. A thorough combing through the furniture pictures on Georgesfurniturepa.com perked their interest to explore this business in greater depth.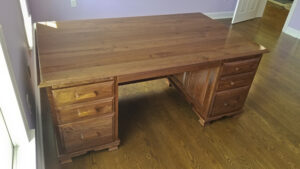 The first item on the list was a conference table. A raised paneled executive desk and credenza joined the completed office furniture order.
"I now have a desk that commands the respect as an executive. Behind my desk is a large wall unit with beautiful shelving."  -Dora
Flexibility of design
A trip to George's furniture introduced the quality craftsmanship, flexibility in design and durability that characterizes all the furniture handcrafted in George's wood shop. They learned about how solid hardwood furniture is made while watching the craftsmen create furniture during a wood shop tour. Many details, ideas, and conversations later resulted in the first of many pieces of walnut furniture. Stephen recalls the amazing attention to details displayed from the initial design phase to the final finishing of the conference table.
Custom headboard design
The personal experience and quality of craftsmanship led Stephen and Dora to fill their house with more unique handcrafted furniture. Each room required specific spacing and a desire for functionality. The next room requiring furniture was the bedroom. A specially designed headboard is a massive wall unit that looks like it was custom built in the room.  It includes two large nightstands with storage units on top, a mirror sandwiched between and a valance to complete the unit.  Each nightstand section had a pullout shelf for additional counter space.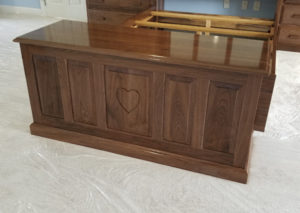 A hope chest stands at the footboard adding more storage space. While the headboard wall unit is the center attraction of the bedroom, a large dresser, chest of drawers and a double armoire bring the bedroom suite to life. All the furniture displayed wooden handles and raised panel sides. A special heart was engraved into the hope chest.
Dora says, "The walnut wood is so gorgeous."
Concealed Functionality
As a retired police officer, Stephen wanted some hidden places for special items. Together with Anthony, our furniture designer, they designed hidden storage with unique accesses into various pieces of their furniture.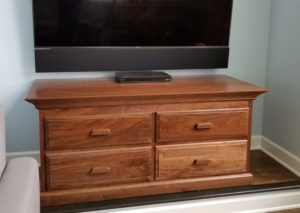 Ideas are endless
The ability to design furniture to meet personal desires is an asset that drives Stephen and Dora's journey of creative living spaces. They look forward to designing a beach bedroom and dining room soon. The love for quality furniture spurs Stephen and Dora to share their newfound treasure with everyone they meet. Come join them in their discovery of quality furniture at George's Furniture store and bring your dreams to a reality.