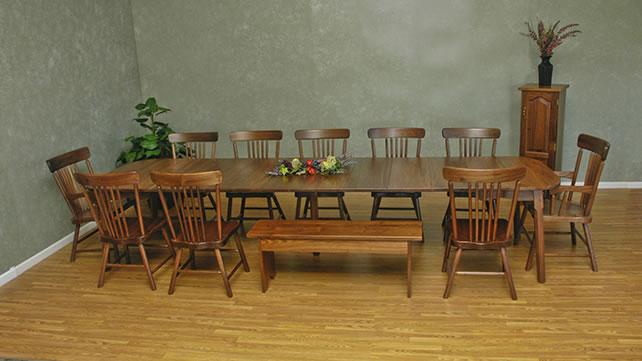 The new year has arrived, and along with it comes a refreshing opportunity to restart. The staff at George's Furniture loves this time of year—not only for its optimistic nature but for the crisp winter air that surrounds us during this season.
What better way to usher in 2018 than to invest in our handcrafted, nationally recognized "Just Keeps Growing" extension table for your dining room. This custom-built hardwood table is designed with love to meet all of your family's dining and entertaining needs. This cozy addition to your home begins at 42 inches wide and 50 inches long, but can quickly and easily be transformed into an extension table capable of growing to a length of 21 feet.
We realize that family and friends may come and go, so a lengthy table may not always be necessary. A table that "grows" is perfect for all occasions throughout this new year. We have matching storage racks or cabinets available which provide you with a compact and convenient place to store your extension leaves until your next big family gathering.
Start the new year off right by treating your family to a product of the highest quality—one that will serve not only your dining and gathering needs, but a long-lasting heirloom which can be passed down through generations.
Give us a call today at 1-800-799-1685, and allow us to design your perfect table.