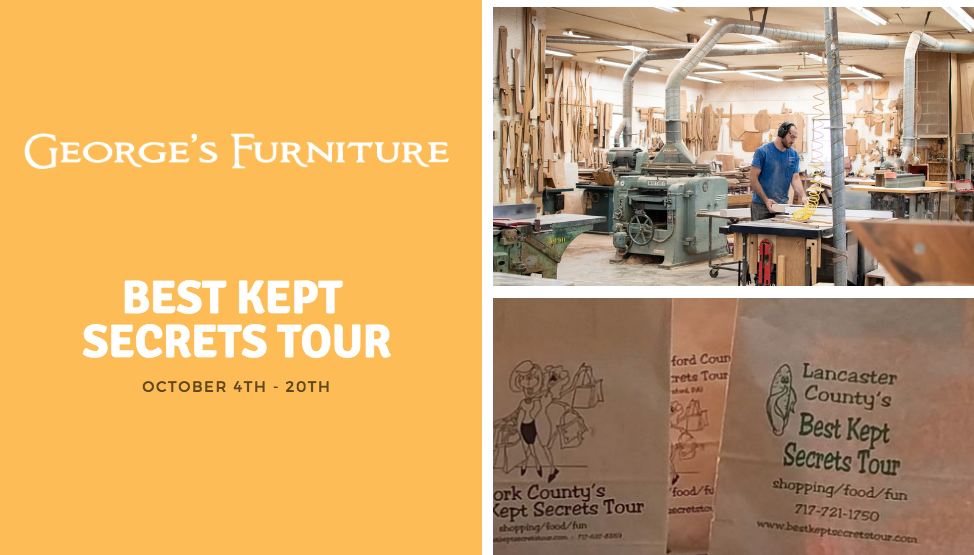 Summer is winding down, and while we LOVE all things summer here at George's Furniture, we're ready for cooler days and fall treats.  We're excited for all the great fall festivals and activities happening all over the county. One such fun event is
The Best Kept Secret Tour
which is scheduled for October 4th – 20th. 
What better way to explore Lancaster Country then visiting hidden treasures like jewelers and boutiques to wineries, farmers markets, and creameries!
So while we can't say who all is participating we're happy to give you a minuscule hint…. Your favorite handmade furniture store is in the lineup! That's right, George's Furniture is excited to be one of over 40 tour stops on The Best Kept Secrets Tour of Lancaster!  
Stop by our showroom for a ticket/tour bag to discover the hidden secrets of Lancaster County. Only ticket holders will see the 40 businesses selected.  Each tour bag includes a guide and coupons along with many items from the participating shops.
While exploring, each tour-goer will experience a wide range of entertainments, gifts, refreshments, raffles, tours, demos, and games.  A Best Kept Secret tour sponsored drawings for over $1,100 in gifts cards is part of the secret! Tour bags are $10 each and limited in quantity.  Visit our showroom at Georges Furniture, 9 Reich's Church Rd, Marietta, PA or reserve your bag by calling 717-426-1004. 
Showroom Hours M-Sa 9-5.  Wood Shop tour hours M-TH 9-4, F 9-2.
We look forward to seeing you in October!.