George's Difference
One of George's differences is the ability to tour our wood working shop and see our furniture production. Not only do customers tour our wood shop, but they can also schedule to see their own furniture as it progresses through the wood shop.
See furniture order hand crafted
"My wife and I had been furniture shopping for over a year and decided it was time to buy.  While my wife was getting ready, I decided to make one last internet search for Lancaster County furniture stores.  I was positive that we had already visited every furniture store so I was not optimistic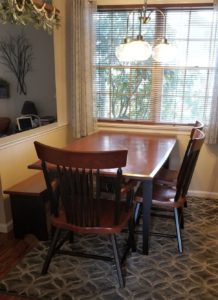 about finding something new. George's Furniture appeared on a list of stores we had previously visited, some of them multiple times. They were located near Maytown so I clicked on their website." -Tom
Tom and Karen worked with our designers to create the perfect dining set that meets the specific needs and interests. They also scheduled an appointment to see their furniture in process. During their unique tour, they saw the chairs ready for assembly. The artisan carefully placed glue into the precisely angled holes drilled into in the seat for the chair legs. Tom and Karen observed the chair leveling process to make sure the chair will sit level in their home.
"I didn't realize that so much work goes into making furniture." — Tom
The finished table waited in the completed area. A bench is ready for assembly. The glued together coffee table wood top waited for shaping and edge routing. The stained panty waited for the final clear water-resistant coat of catalyzed conversion varnish. The bed not started.
Assembly lines vs hand crafted
Several minutes into the tour, Tom asked about the difference between George's furniture process and other furniture manufacturing. He referred to the cost and time difference of mass production assembly lines. Mass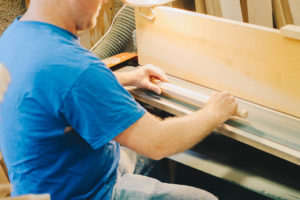 production uses production lines, large sheets of plywood and particleboard in the construction. They spend little time on matching grain and preparation (planning, cutting, and gluing together the solid wood) for assembly.
The path to quality
Handcrafted custom furniture made at George's shop displays the careful attention to the wood grain, design, durability, and strength of the construction. Each artisan selects properly dried solid wood boards, cuts them to length, joints, and thickness plains the surfaces to prepare for gluing the wood pieces together. The furniture is ready for assembly after construction of all the individual parts (legs, skirts, tops, sides, drawers: fronts, sides, bottom-all solid wood, raised panel doors, rungs, seats, chair top, tongue-groove backing, etc.)
Next, they stain it, and apply a clear coat of finish. The artisan signs and dates their finished piece before an all-over light sanding and final application of water-resistant clear coat of spray-top to bottom, inside and out. Next to last stop – the hardware, table slides, and tongue-groove backing. Last stop is the storage area where it waits for the completion of the other pieces in the order and delivery to the customer's house.
Beginning the furniture process
"We were met by Anthony upon our arrival.  After explaining what we were looking for, he expertly guided us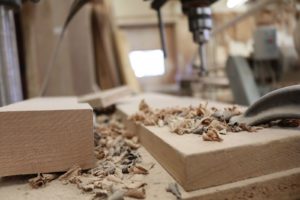 through all the options.  When ordering custom made furniture there are lots of decisions to make.  After several hours our order was finalized. -Tom
See your furniture in process
Our furniture was recently delivered and we are very happy with all the pieces.  They are gorgeous and exactly as we ordered.  The entire process from beginning to end was very pleasant and trouble free. We visited the shop and saw several of our pieces while in production. -Tom
Come and experience the George's difference. The unique process of designing a new piece of furniture and scheduling to see its handcrafting journey enhances the furniture search.  Tour two large showrooms, explore new ideas and see the quality of craftsmanship.
In closing, my wife and I would like to sincerely
thank everyone at George's Furniture. -Tom and Karen